What We Do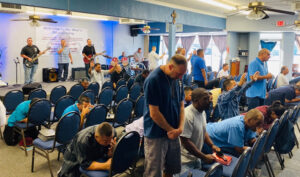 Our goal is to preach God's Word and help men and women apply the Word of God in their own lives to overcome any obstacle that may present themselves in their paths. A personal intimate relationship with our Lord Jesus Christ can change a person's life. Our focus is to equip people for works of service so that the body of Christ may be built up.
We offer our members a new life and new hope through:
A PERSONAL SPIRITUAL EXPERIENCE WITH OUR LORD JESUS CHRIST
INTENSIVE DISCIPLESHIP
THE SUPPORT OF THE MEMBERS OF THE CHURCH
Services Offered:
Church Services for the whole family
Christian Drug Restoration Homes (live-in, no charge) for men and women weblink newzeal-lv.org
Missionary Teams
Marriage Classes/Counseling
Leadership School
Jail and Hospital visitations
Discipleship
Street Rallies / Park Rallies
Evangelistic Crusades
DRUG PROBLEMS?
Total recovery is possible.
We help you "Step by Step."
There is no charge for our services!